Osaka Swing Presents
Osaka Lindy Exchange 2022
1st(Sat)-2nd(Sun) October
Osaka Lindy Exchange 2022
リンディホッパーが大阪に大集結!リンディホップの祭典、Osaka Lindy Exchangeが帰ってくる‼
ライブバンド でダンス、パフォーマンス、コンペティション、朝から朝まで楽しみましょう

We are very happy to annouce that our annual Lindy Exchange will be back!!
You can enjoy whole weekend with live music, performances, competitions!!




感染防止対策のために、以下の事項を守って安全に楽しみましょう。
For our safety, please follow the rules below.

----------

蜜を避けるため、人数制限を行う場合がありますのでご了承ください。
イベントの参加ボタンで参加をお知らせください
熱のある方、体調の悪い方の参加はご遠慮ください
必ずマスクを着用してください
連続で踊ることを避け、踊る前後、合間に手洗い・消毒を徹底してください

You need to let us know your attendance by clicking 'going' on facebook page.
If you are sick or having fever, you can not join in.
You need to put mask on the dance floor.
Avoid dancing constantly and wash your hands frequently.
Facebook Event Page
最新情報はイベント参加ボタンを押して、チェックしてください
Please click 'going' so you can get new updates on facebook event page!
イベント概要 / OLE over view
※状況により内容は変更される可能性があります。
※Details would be changed due to the situations.
◆ 9/30(Fri) Unofficial Pre-Party / 前夜祭 ◆

VENUE / BAR Voco
https://goo.gl/maps/EzAatz2U3MWLkkRcA
TIME / 19:00-23:00
FEE / 3000yen(Inc.1Drink) Booking - [email protected]
BAND / Kenji and NewOlreans Swingers
※スペースに限りがあるため完全予約制とします
※There is limited space so, you need to book in advance.
Clap Stomp Swingin'
with Friends
Kenji and
New Orleans Swingers
Pinky-Cat☆ / Vintage Fashion Style
NEWS
DRESSCODE / ドレスコード


何を着たら良いか迷ったら、今年のドレスコードはこちら!
If you follow the dress code, it would be more fun to be at the parties!

9/30(Fri) Pre-Party - ANIMAL
10/1(Sat) Main Party - GREEN
10/2(Sun) Vintage or Semi dress up
10/1(Sat) LET'S TALK ABOUT LINDYHOP / 座談会
ダンスパーティー前にLindyhopのあれこれをざっくばらんに語る会を設けます。
あらかじめ決めたテーマに沿って進めていく予定ですので、テーマの提案も募集しております。
当日会場に来られない方のために、簡易的な配信を予定しています。

We will talk about Lindyhop casually.
There will be livestreaming for dancers who won't be able to join in person. But only in Japanese. (Sorry!)

WHEN : 10/1(Sat) 14:45-15:45
WHERE:西淀川マルモットホール
FEE : FREE 無料
DETAILS: Facebook
10/1(Sat) STEALING WORKSHOP FOR JAM CIRCLE / スティーリングWS
会場ドアオープン後、スティーリング(ジャムなどで相手をスムーズに交代する)ワークショップを行います。ジャムの作法を学んで、ジャムサークルの達人になろう!
At the first part of the dance party, we will provide 'Stealing' workshop.
WHEN : 10/1(Sat) 16:00-16:30
WHERE:西淀川マルモットホール
FEE : 2500YEN (As dance party fee / ダンスパーティー参加費として)
LEVEL:For dancers who can dance 6 and 8count. / 6count, 8countが踊れる方
DETAILS: Facebook
COMPETITIONS / コンテスト
10/1(Sat)
Short Showcase / スイングカテゴリーのショウケース
ジャッジは皆さん!投票制にて優勝を決めます。
Competitors will be judged by the audience. Please vote your best team!
Invitational M&M / 招待制のミックス&マッチ(くじを引いて相手を決めます)
ジャッジは参加ダンサー同士。自分以外の組を審査します。
Competitors will judge each other.

10/2(Sun)
Solo Jazz / ソロダンスのコンテスト
受付にエントリーシートを用意します。参加希望者は氏名を書いてお申込みください。
予選:音源にてファイナリスト8名を選出
決勝:バンド演奏でバトル形式で行います。
We will prepare the entry sheet. If you would like to join solo jazz comp, just write down your name to compete.
Prelim:We will pick 8 finalists with DJ music.
Final:The winner will be decided with battle format, with the band music.
DJs


ダンスフロアをもりあげてくれるDJラインナップはこちら!!
Our fine djs will make you dance non-stop!!


9/30(Fri) Steppin' Out
Koichi(Osaka), Mark(Tokyo), Kanta(Fukuoka)


10/1(Sat) Evening Dance
West(Osaka), Amore(Tokyo)

10/1(Sat) Late Night
Hall - Yuririn(Kanagawa), Mei(Miyagi), Billy Joe(Tokyo)
Cafe - Kosuge(Kyoto), Sawin(Hyogo), Nakajo(Osaka)

10/2(Sun) Evening Dance
Eiji(Osaka), Toru(Aichi)


10/2(Sun)リンディイン大阪城公園のDJを募集しています。
We still need DJs for Lindy in The Osaka Castle Park on the 2nd!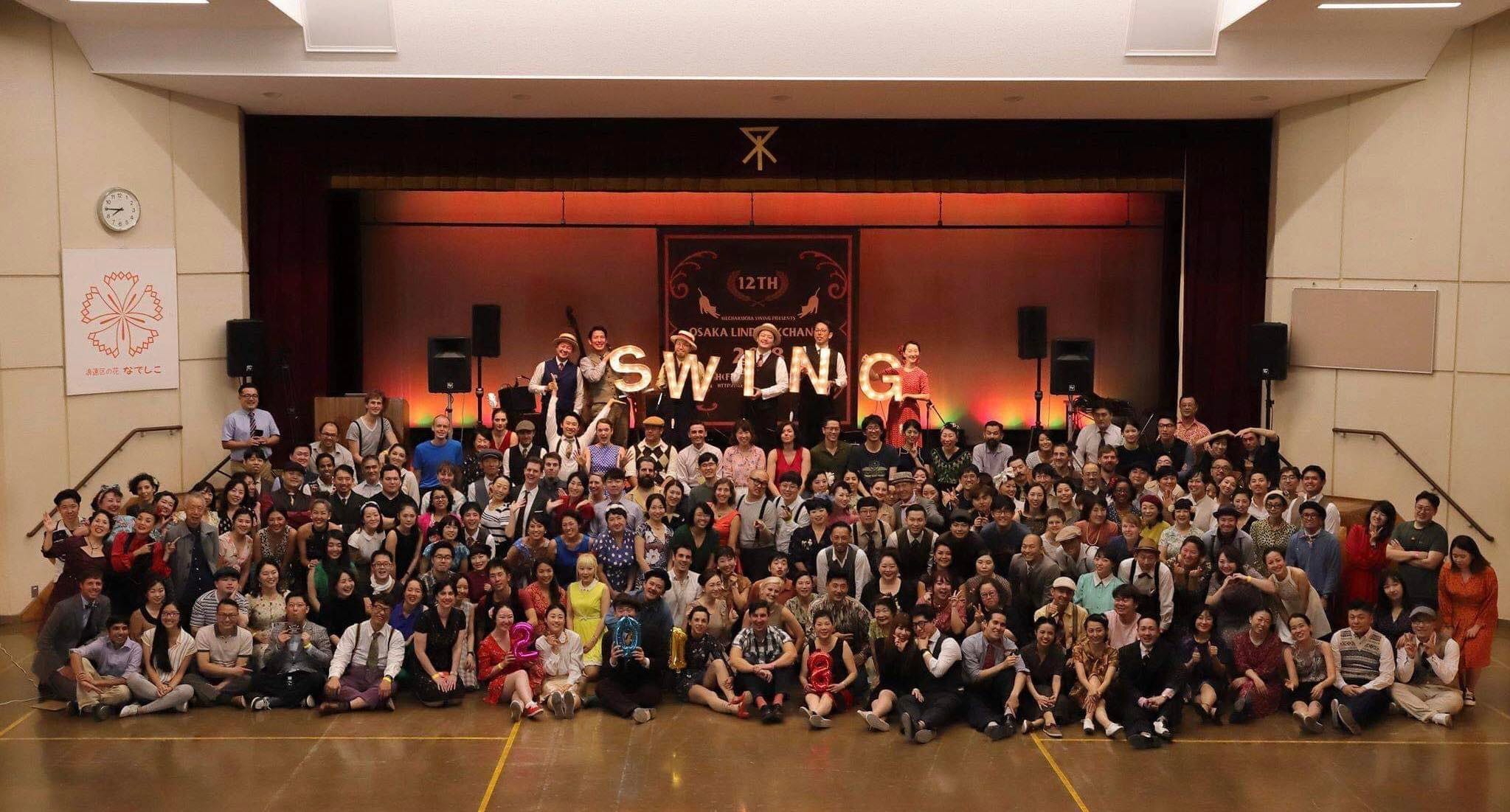 Osaka Lindy Exchange 2022 / Osaka Swing